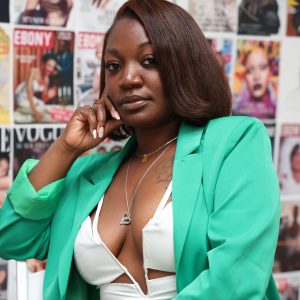 Lenese Calleea (she/her)
Product Development & Production Director, LC Apparel
Presentation: Inventory Planning For Your First Production Run
Website

Lenese Calleea, known to the world as the Fashion Fairy Godmother, is on a journey…
Despite being 30 years young, Lenese Calleea has accumulated 2 decades of expertise in design, garment construction, and apparel production. Earning a BFA in Fashion Design. Lenese has evolved from a young skilled seamstress and adolescent entrepreneur to a designer, apparel industry expert, consultant, and budding Creative mogul. Lenese started her own brand entitled Calleea Vatein creating Jackets, Jumpsuits & Jammers for the creative entrepreneur's lifestyle. Her pieces are strategically designed to embody Classic, Color and Confidence.
Lenese relocated to New York in 2014, to pursue a Master's in Fashion Management & Merchandising. Lenese is the creator and curator of BlackNFashion Podcast, a medium dedicated to the growth & enhancement of Black designers, merchandisers, stylists & their subsequent entrepreneurship.
Lenese is the CEO of LC Apparel Consulting and Founder of The Black Girlz Designer Club Nonprofit. She lends her knowledge to the next generation of designers via her services, courses, and mentorship packages. Her mantra: Bringing Dreams to LIFE. In 2020 Lenese was able to scale her business to $700K in revenue and went from independently in her home to a commercial space with 10 employees in 7 months.
Lenese also hosts New York Garment District tours, workshops, and master classes. She continues to be a resource to designers at varying degrees of the journey. Lenese is an advocate for education, unity, and inclusion for Black Creatives, in fashion. She has completed product development and production for over 200 emerging brands.